The old Draw Bridge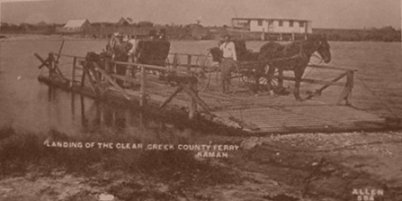 The Kemah Ferry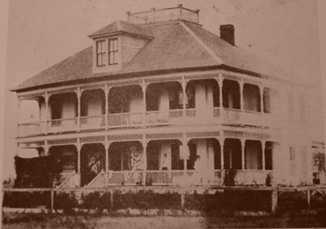 The Henry Kipp House now a B&B

built in 1901 still stands watch over
G alveston Bay today call 281-334-3636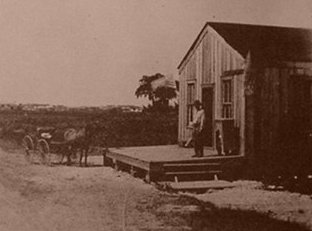 The Original Kemah Post Office
(Seabrook is in the background)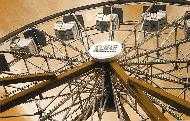 The Kemah Boardwalk
Kemah is on State Highway 146 and State Highway 96
in a half-moon pocket on Galveston Bay twenty-five miles northeast of Galveston in northeastern Galveston County. The Southern Pacific had been built passing through a small settlement and with the railroad came more people. About 1898, the Bradford & Kipp families, owners of almost all land, subdivided it into lots establishing the township of Evergreen. It was also known as Shell Siding in the period when the railroad hauled shell from the area. Along the shoreline of the Bradford property there extended a shell reef several hundred feet long, extending into the bay a couple of hundred feet. It is reported that in some places the shell was some 20 to 30 feet high. During the 1890's Bradford sold the shell to the railroad at seventy-five cents per rail car. The railroad built a spur track across the prairie from Dickinson to the bay to haul away the shell. There is some evidence of isolated sales of shell sold in 1875, which was hauled away by barge to Galveston for roads in that city. Indian Burial grounds were also found in the shell reef.

J.H. Kipp attempted to obtain a post office for Evergreen but was turned down because there was already a town of Evergreen. Summer residents were asked to come up with a name and "Kemah" was chosen, an Indian word meaning "wind in the face". It was officially renamed Kemah, for its position on the bay in 1907, when the post office opened. By 1914 Kemah had a population of 200, four hay producers, farm homes, summer homes belonging to residents of Galveston and Houston, and several fishing camps.

During the Great Depression the population dropped to 100. In 1936 state highway maps showed a church, a school, several businesses, and multiple dwellings at the town site. World War II brought growth to a population of 550 by 1943. This number held steady until 1965, during which time the town had a maximum of thirty businesses serving primarily the oil and ship-building industries. By then Kemah had incorporated and become part of the Clear Creek Consolidated Independent School District. Thereafter, it reached a high of 2,000 residents and forty-three businesses in 1970, then began to decline. In 1972 the population was 1,144, and in 1988 Kemah had 1,591 residents and sixty-six businesses. Once considered a shrimping town, Kemah continues to celebrate an annual August Blessing of the Fleet. On 1990 the population was 1,094. Today with the addition of the Kemah Oaks subdivision ithas more than doubled to it's present population of 2,333.


Kemah has been a destination for generations of Houstonians seeking an easy getaway for boating, fishing, dining or shopping for crafts, collectibles and other unique items. The Kemah Boardwalk, a 14-acre complex complete with entertainment, themed restaurant, hotel and amusement rides marina and a miniature train entertains this generation of Houstonians. Our website log shows where people surf in from. The breakdown is as follows. Kemah, TX 10% , Houston, 30%, Texas 25%, US 19% Outside US 16%. It would appear we now are a world class destination.