Our Old School House Visitor Center and Kemah Historical Museum




At the Corner of Bradford and 6th Street




has every thing you expect and more to assist your visit!





KEMAH TEXAS


Kemah offers visitors and planners a wonderful selection of lodging, a variety of meeting space, unique event locations and plenty of activities. Kemah's small size offers the convenience of a small town, with no destination further than 10 minutes away, and most of the amenities of a big city. Kemah is a world renowned destination for shopping, boating wonderful restaurant's and entertainment Kemah Boardwalk famous for sensationally fresh seafood is also famous for Amusement rides. A ferris wheel overlooking Galveston Bay. A breathtakingly beautiful carousel a Yellow Submarine and of course a gas powered train for a ride along the boardwalk. Joe's Boardwalk Beast, a 124-passenger speedboat, capable of reaching speeds up to 50 mph. The ride, is open weekends from 11 a.m. to 8 p.m., Summers Joe's Boardwalk Beast is open daily for rides night excursions and lunchtime packages . Tickets $10.

Rock the Dock – All Summer long, visitors enjoy a great mix of musical talent every Thursday evening on the Boardwalk. Local and Texas bands entertain with the best of blues, country, rock and more! STARTS IN MAY!

The Rock On the Dock 24 feet of Fun in front of the Cadillac Authentic Mexican Restaurant. One of the Kemah Boardwalk's Many Amusements Come on down and test your skill. Pharaoh's Fury A Ship Shaped Ride that swings 39 feet per second at a 65 degree angle. Dancing fountains 75 different Water Jets to play in. Plan your trip around our seasonal Boat Parades you will not be disapointed.

We have four Parades, Yachty Gras Boat Parade, Blessing of the Fleet the Annual Christmas Boat Lane Parade and the Pirate boat parade. Come on down for some Extreme Kemah Therapy the Boat Parades!

Click Here





Children of all ages love to play in the Kemah Boardwalk dancing fountains. Kemah, Texas is all about families.
| | | |
| --- | --- | --- |
| Carousel & Ferris Wheel | Pharaoh's Fury | Dancing fountains 75 different Water Jets |
Transportation
Kemah is located just 20 miles south of downtown Houston and 28 miles North of Galveston. Nearby airports include Houston Hobby Airport a thirty minute drive from Kemah and George Bush Intercontinental Airport a 60 minute drive from Kemah .Ellington Field (EFD) is a joint use civil/military airport. Used by the United States military, NASA, Continental Express, United Parcel Service and general aviation a twenty minute drive from Kemah. Houston Gulf Airport is accessible for chartered planes, helicopters and can also accommodate Small Business Class Jet's on it's 5200 ft runway just 10 minutes from the Boardwalk. (HGA) 281-337-4500. Helicopters are welcome at the Kemah Boardwalk by prior arrangement only. Call 281-535-8100.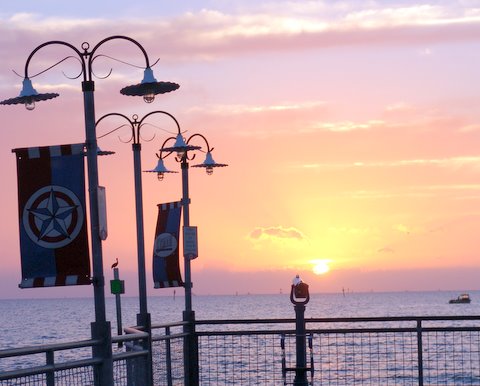 Kemah at Sunrise off the Kemah Boardwalk


Weather
The temperate Weather makes Kemah ideal for meetings at any time of the year, Annual season temperatures are: Summer - low 70's to high 90's; but remember "Kemah" is an Indian word meaning, "facing the wind." for our ever present Galveston Bay breeze. Fall - high 60's to the 80's; Winter - 50's to the 70's; and Spring - mid 50's to the high 70's.

For more information
Contact the Kemah Community Development Corporation, Secretary at 281-334-1611.

Brain Twister:
If Kemah is an American Indian word for "facing the wind."
Why is a city in the Republic of Turkey also named Kemah?