Re :Link/Listing on Kemah.Net
I am redesigning Kemah.Net. To remain on the website or add your business let me know. Hope to be finished by the 4th of July,

our 10th anniversary.

Our website is the No. 1 ranked website for people looking for Kemah! Our famous waterfront draws people here. Your great business brings them back.
Kemah, Texas has been a Destination for Millions of Houstonians for decades. It is just a short drive to Galveston Bay and Kemah. Fuel prices have caused many visitors to choose Kemah rather than extended travel and where do most come first? You guessed it, Kemah.Net! An average of 6,584 per day come through my counter looking for you. So don't delay. Email me for best results please. Get connected.
Thanks
Claire
Claire
or call 832-347-8837
SUE DRIVE BOAT STORAGE


1011 SUE DRIVE
KEMAH, TEXAS 77565
713-882-2330 / 713-906-6053


Sample Area Business Basic




Listing Fee: FREE (NO LINK)






THE BOARDWALK INN


KEMAH BOARDWALK
number 8 Waterfront
Kemah, TX 77565

Sample of Listing with a link to
your site: $1.00 per day paid
in advance.

HOTELS
BOATING
SERVICES

SHOPPING
DINING
NIGHTLIFE

At the left pick the page you fit
or are on then Contact Me ASAP

Claire Worthington,
Your Humble Web master/Photographer/Owner
http://www.kemah.net/
Claire's Anchorage,
2021 Anders Lane
, Kemah, TX 77565
, Galveston County, USA,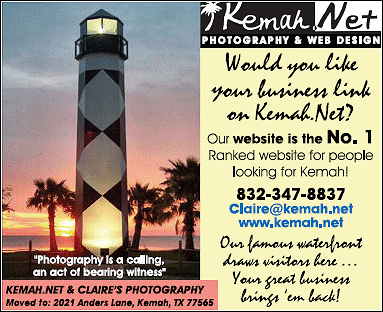 Claire D. Worthington