Find Great Area Restaurants look right here. Keep up with what is happening in Kemah in

© Photo's by Claire

Images on my

page
Kemah is just a short drive from Clear Lake, Deer Park, Friendswood, Galveston, Houston, Kemah, La Porte, League City, Pasadena, Pearland, Seabrook, Webster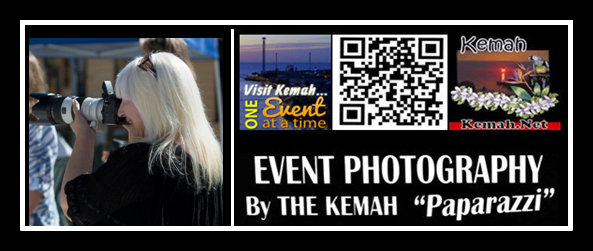 So... Kemah, TX is a tiny town. A blip on a map, really, but it's Home to Houston, TX #1 Tourist attraction, Kemah Boardwalk and is just a 30 minute
drive from Galveston, TX and Houston, TX ! The The Houston Cruise Terminal is 15 minutes away , Galveston, TX cruise terminal is 35 minutes away and
the Johnson Space Center (NASA) is 15 minutes away! Kemah is much more than just home to a wonderful Boardwalk!
I do a Kemah Website, Kemah.Net (ツ) and we have told the rest of the Kemah, TX story for 15 years
Welcome y'all! ツ. Claire Durkee Worthington I'm a local freelance photojournalist. A.K.A. the Kemah Paparazzi.



July 4 / 98 to 2013