I can't sing or dance I just take great pictures! Because that's what I've been known for since 1998, 1000's of area visitors and locals alike, flock to Kemah.Net and our fb page to see our latest eye candy (area photo shoot). They get the local prospective here too. There is no need to sign up, put your area event or business in my next shoot. Pick your level of fame, pay me $100, $200 or $300 per year. We guarantee you want be under exposed. Be in the next shoot. text me or email me @ 281-683-8087 or Contact me via this email link for details Check. For Pennies a day we add your business link, your event , sale notices and best of all you get a professional photo shoot by acclaimed photographer Claire Durkee Worthington, Kemah.Net in all 3 packages.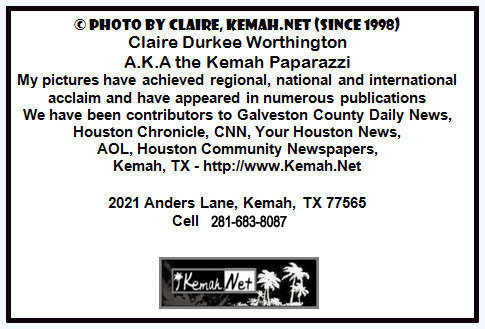 HOME - DINING - BUSINESS DIRECTORY - LODGING BOATING
- LIGHTHOUSE DISTRICT
Kemah.Net is images of events, people, places and things in Kemah, Texas
and Galveston Bay area by Photographer Claire Durkee Worthington A.K.A. the Kemah Paparazzi
This Website is owned and developed by Photographer Claire Durkee Worthington. My mission is to display the events, fun and beauty of this city the Galveston Bay area and its business to our visitors and tourist and we have been doing just that since we started in 1998 .You will feel at home here before you even arrive if you peruse my Images located throughout this website. I call it
Kemah.Net,
Déjà vu
.


Hey visitors, let Locals guide you to the areas favorites. Bacliff TX, Clear Lake Shores TX, Dickinson TX, El Lago TX, Friendswood, TX Galveston TX Houston TX, La Porte TX, League City TX, Nassau Bay TX, Pasadena TX, Pearland, TX San Leon TX, Seabrook TX,Taylor Lake Village TX, Webster TX to name just a few. Kemah, TX is just 6 miles southeast of NASA. Houstonians call a trip to this paradise on Galveston Bay "Kemah Therapy©!" Come see why. Take Exit 23 off of I - 45 Go East 7 miles your in Kemah Turn Left on Hwy. 146 Right on 6th, 7th, 8th, or 9th Street and you're in the Kemah waterfront district. 1401 State

Hwy.

146 - Kemah, TX

77565

Galveston, County, USA. HOME -


BOTTOM LINE
Advertise on Kemah.Net and

MY
facebook.com/KemahTexas page today!!!!!!!!!!!
My images and pictures draw a daily crowed
. Are you and your business in the picture?

My portfolio