Blessing of the Fleet Day Schedule
SUNDAY AUG. 1ST 2004
POSTER PDF


Sunday Aug. 1st is the 36th annual Blessing of the Fleet we take
this opportunity to recognize another great organization our United States Coast Guard on it's upcoming 214th birthday Wednesday, August 4. Thank you for your continued support of the BOF and thank you for your service!


VIP/Committee Boat
12:30 pm
VIP/Committee Boat " Rollin Quarters" .belonging to Paul and Linda Merryman leaves the dock with Grand Marshal: Commissioner of the General Land Office, Hon. Jerry Patterson, BOF, Parade Chairman:
Ralph Yarborough and distinguished guest. HON. Wayne Rast, Kemah City Council. HON Mary Anne Holcomb, Kemah City Council and Husband Fred, Carol McCants, Board Member,Kemah Community Development Corparation and owner of (Carol & Company and the Hula Hut in the Kemah Lighthouse Dist.)

Lisa Glenn ( author )

"WIND IN THE FACE" (Kemah means wind in the Face)
A book that takes place between Washington, D.C. and Kemah, Texas and is accented with local color, coast to coast. will be at the Boardwalk Most of the day as a very special part part of this years Blessing of the Fleet. She will be available to sign copies of her book.

Boat Lineup
1:00 pm
Boats will be lined up in parade order in Clear Lake and be placed in order
all boats must be in this lineup and begin slow precession to the Kemah Boardwalk.

Blessing
2:00 pm
The Blessing, Boat Parade, Ceremonial memorial wreath toss into the water and Judging at Kemah Boardwalk.


Clergy:
1. Monsignor Eugene Cargill of St. Mary's Catholic Church, League City, 281-332-3031
2. Rev. David Right Southshore Non- Denominational Church, Kemah, 281-538-1751

Master of Ceremony :
1. Tim Anderson, G.M. Kemah Boardwalk.
2. Hon. Kelly Williams, Kemah City Councilwoman and reigning
Mrs. Galveston County. Assisting, Husband WCID #12 Board Member
3. Hon. Paul Williams:


Location
Clergy and Judges Master of Ceremony and Media will all be
at the Cadillac Authentic Mexican Restaurant Waterfront #7
Kemah Boardwalk on the Deck upstairs



Judges
1. Hon. Ken Clark, County Commissioner Pct., 4 Galveston Co.
2. Bryan Stokes, VP Texas First Bank, Kemah
3. Tom Hults, President Seabrook Seafood (A BOF Founding Family)
4. Clifford Hillman, President, Hillman Oyster Company
(A BOF Founding Family?)
5. Hon. Mark A. Foster, J.P., PCT 7



King Neptune
4:30 pm
1. Crowning of King Neptune (Don't miss this)!

Award Ceremony
2. Award Ceremony in the Fountain Plaza on the stage/bandstand at the Kemah Boardwalk with many surprises.


Early Bird Drawing
1. Shrimp Boat.
2. Pleasure Craft.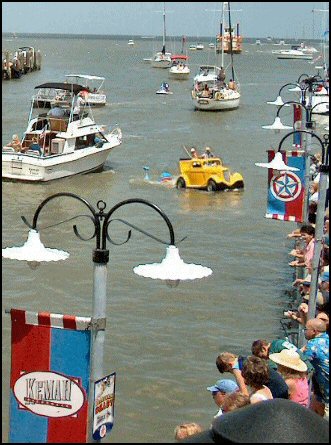 SPECIAL FLAG PRESENTATION
BY CONGRESSMAN RON PAUL
AND STATE REP. LARRY TAYLOR

Early Bird Drawing